Accossato, 16x, PRS, Adjustable, Radial, Clutch, Master, Cylinder, w/, Folding, Lever, RST
Loved by racers worldwide, the Accossato 16PRS radial clutch master cylinder for sportbikes feature a folding, standard length RST lever with anti-drag inlet hole. The forged aluminum cylinder is stronger and lighter than stock cast units for maximum reliability. The variable lever ratio of the 16PRS makes it the perfect option for motorcycle riders who want to tailor the amount of force required on the lever to engage the clutch. Accossato has been producing Italian made sportbike components for original and aftermarket use since 1969.
This clutch master cylinder has the revolutionary Accossato PRS system which allows the rider to make tool free adjustments of the lever center distance selecting between the softer (15 mm), semi-firm (16mm), or most responsive (17 mm). The advantage of the Accossato PRS comes from the relationship of the piston which is kept "in-axis" (meaning on a "straight line") as it acts on the position of the fulcrum during all lever adjustments. For this reason, the power of the Accossato PRS 16x-15-16-17 is an upgrade over other variable distance master cylinders. This technology was invented by Accossato, is not found on the RCS, and guarantees a more precise, immediate, and powerful feel with reduced wear on the internal gasket, piston, and cylinder wall.
This hydraulic clutch master uses a 16mm diameter piston and a upgraded racers folding, standard length RST lever which features an anti-drag inlet hole machined into the lever end for the passage of air at high speed.
Accossato produces race quality clutch master cylinders and braking components using a 100% quality-control process mandating all core components to be inspected under a microscope before assembly, pressure calibrated, and vacuum tested upon final assembly.
TECHNICAL FEATURES
Folding Lever: (variable) 16mm x 15mm, x16mm, (most racer feel) x17mm
Material: Pressure Forged Aluminum
Piston: 16mm
Surface Protection: Anodized
Standard Folding Lever w/ RST Part#: ACC-LV006N-PRS-L-RST
Short Folding Lever Part#: ACC-LV006N-PRS-C
Exclusive Three (3) Year Limited USA Warranty
ITEMS REQUIRED TO COMPLETE INSTALLATION
We suggest using the Accossato 15ml Clutch Reservoir Mounting Kit (Part# ACC-KITVP) as it includes a reservoir, bracket, hardware and tubing.
The clutch master kit includes a single hole banjo bolt with 2 copper washers.
If you wish to retain the clutch micro-switch functionality you will require a Single Hole Inline Pressure Switch, Banjo Bolt Part#: ACC-ID001.
If you intend to use your stock reservoir you will require a length of 6mm Tygon 2375 Tubing and 2 3/8" Spring Clamps.
Dot 4 Brake fluid will be needed. We suggest replacing all of the fluid in the system when you install the master. Do NOT use Dot 5.1 Brake Fluid.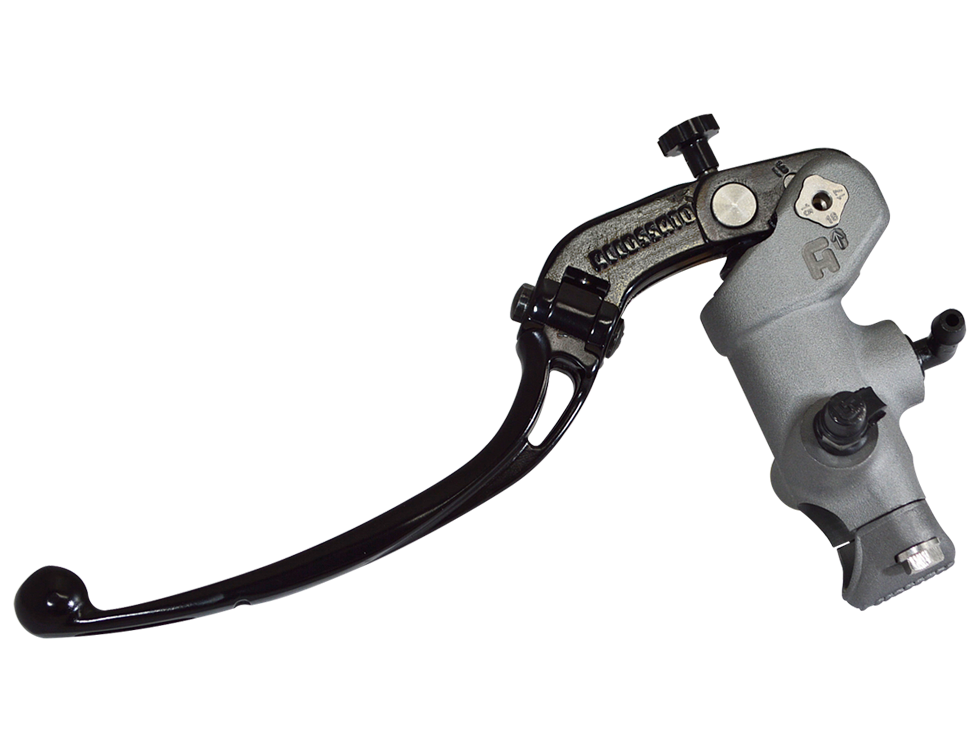 Accossato Racing products are known worldwide for their leading design and strict adherence to the highest quality standards. Accossato products are the result of their in-house design and production process that draws from its experience building racing motorcycles since 1969. Headquartered in Turin, Italy, Accossato produces world class motorcycle brake components which include brake master cylinders, cnc machined calipers, rotors, brake lines, and pads. Technical support is provided by the Accossato North American Distributor which can solve any problems with care.
MOTO-D is the exclusive North American Distributor for Accossato Racing Italy. For more info visit www.motodracing.com